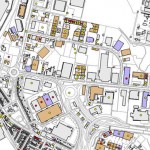 LandInform is an information management and GIS consultancy offering expert advice and professional services in information strategy and planning, integrated data resource management, data analytics and information science.
Founded in 1997 LandInform specialises in guiding and supporting management of the full data life-cycle needs of a business – from data assemby and integration, architecture and design, data assessment, quality and data standards and business process improvement to advising on and developing data strategy, policy and governance.
Recent projects have developed and delivered national address databases in support of government energy efficiency policy, the Census, the Land Register of Scotland and Scottish land and property valuation.